There are so many exciting things happening in fandom right now I can barely contain my excitement. Seriously. i am not an effusive person, but I am basically bouncing in my seat! What with my obsession with lists and all, I figured now would be a good time to make a list of all the exciting things I need to do in the next few weeks!
To-Do List:
(for the next few weeks)
• Go through
hprarefest
's anon masterlists for
fic
and
art
and make sure I didn't miss anything. Read anything I missed. Compile recs list.
• Leave prompts at
hp_creatures• Come up with prompts for
hd_fanart's fest• Ooo and ahh over all the pretty prompts at
samhain_smut, hope somebody claims mine• Ditto for
dm_asp_fest
• Prepare my Cross Gen recs for
crack_broom
and schedule entries
• Announce timeline and updated rules at
hd_erised
(
capitu
and I are so crazy excited about this, you don't even know! It's coming soon guys!)
• Finish reading the
hd_smoochfest
entries I have bookmarked. Make a recs list.
•
hp_crossgenfest
!! Pimp, leave prompts, and make sure everything runs smoothly. I AM SO EXCITE! Prompting post is going up in about 5 minutes. :D
come join
hp_crossgenfest!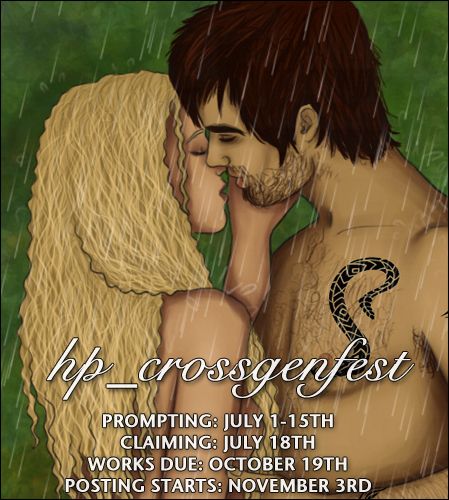 Art by
thiliart, Banner by
capitu